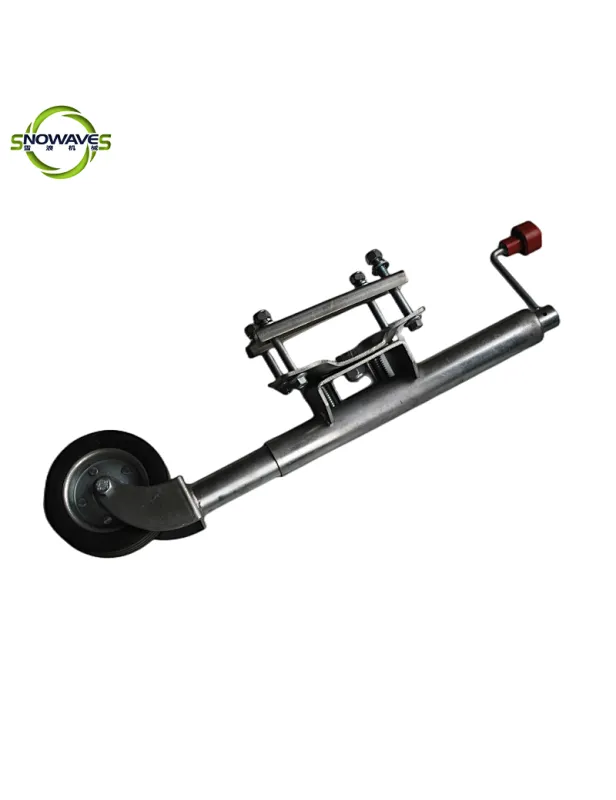 Trailer Jockey Wheel
This high-quality trailer jockey wheel is the perfect solution for maneuvering your heavy trailer with ease. With a swivel bracket and clamp, it can support up to 500kg load capacity.
Trailer Jockey Wheel - A Must-Have for Efficient Trailer Maneuvering
The Trailer Jockey Wheel is an essential accessory for smooth and effortless trailer maneuvering, designed to enhance efficiency and convenience during transportation. This versatile tool, also known as a trailer jack or trailer stand, offers several benefits that make it indispensable for both experienced and novice trailer operators.
Firstly, the Trailer Jockey Wheel provides exceptional stability and support, ensuring a secure foundation for your trailer. Constructed from durable materials, it can withstand heavy loads and rough terrains, guaranteeing a safe and steady operation. Its robust design also minimizes the risk of trailer tipping, safeguarding your cargo and preventing potential damage.
Secondly, this handy device allows for effortless maneuverability. Equipped with a swivel mechanism, it enables easy rotation and pivoting of the trailer, even in tight spaces. This feature proves invaluable during parking, hitching, or unhitching procedures, saving you valuable time and effort.
Moreover, the Trailer Jockey Wheel boasts adjustable height settings, accommodating trailers of various sizes. This adaptability ensures a perfect fit and optimal weight distribution, enhancing overall stability and control. Whether you're towing a boat, caravan, or utility trailer, this versatile tool guarantees a smooth and balanced towing experience.
Additionally, the Trailer Jockey Wheel is designed for user convenience. It typically features a comfortable grip handle, allowing for comfortable and ergonomic operation. Many models also incorporate a parking brake system, providing extra security and preventing accidental movement when the trailer is stationary.
In summary, the Trailer Jockey Wheel is an indispensable tool for efficient trailer maneuvering. Its sturdy construction, maneuverability, adaptability, and user-friendly features make it a must-have accessory for every trailer operator. Invest in a high-quality Trailer Jockey Wheel today and experience hassle-free transportation like never before.